Biologic medicines first became available over 25 years ago and have revolutionized the treatment of some of the most complicated and life-threatening illnesses, including multiple sclerosis, rheumatoid arthritis, and a variety of cancers. These medicines are large molecule drugs made from living cells and are manufactured through highly complex processes. In part, due to the intricate development and manufacturing of these agents, biologics are significantly more expensive than traditional, small molecule medicines.
Biosimilars are a new category of medicine and as its name implies, a biosimilar is a biologic that is "similar" to another biologic drug already on the market. Biosimilars are comprised of complex molecules which cannot be exact copies of the reference biologic. These medicines are an important new category of therapy because they have the potential to increase access to biologic therapies and provide cost savings to patients and the health care system. As groups representing clinicians who regularly prescribe biologics, we have a unique and important perspective about the use of these medicines. While biosimilars hold tremendous promise to increase access and affordability of these advanced medicines, their availability will increase the complexity of the treatment landscape. As such, the Biologics Prescribers Collaborative aims to ensure that sound policies are in place to promote the safest possible use of all biologics, including biosimilars, for all patients.
The Biologics Prescribers Collaborative is led by five co-conveners: Dennis Cryer, MD; Gregory Schimizzi, MD; David Charles, MD; and Arturo Loaiza-Bonilla, MD. These co-conveners share the belief that policy issues relating to biosimilars are of the utmost importance for patients' health and safety.
Learn more about the Biologics Prescribers Collaborative in this one pager.
Member Organizations
Our member organizations represent specialist and general clinicians who prescribe biologics with regularity. They are committed to providing the best patient care and welcome the therapeutics options presented by biologics and biosimilars to care for patients with debilitating and life-threatening conditions.
Co-conveners
The Collaborative is led by four distinguished co-conveners.
Dennis R. Cryer, MD
Co-Convener | Biologics Prescribers Collaborative
Dr. Dennis R. Cryer is a co-founder and serves as Physician Co-Convener of the Biologics Prescribers Collaborative. An alumnus of Johns Hopkins University and the Medical Scientist Training Program at Albert Einstein College of Medicine of Yeshiva University, Dr. Cryer has an expansive career: in academia on the research and clinical faculty of the University of Pennsylvania School of Medicine, and 20 years in the pharmaceutical industry at Bristol-Myers Squibb, ultimately as vice president of external medical affairs serving as external liaison for advocacy and quality across therapeutic areas. Dr. Cryer played a leadership role in the clinical research, development and launch of two blockbuster drugs in the cardiometabolic space. Dr. Cryer is a member of numerous scientific organizations including American Association of Clinical Endocrinologists, Association of Black Cardiologists, American Diabetes Association, American Heart Association (former Chair of the Pharmaceutical Roundtable), American Society of Human Genetics, American Society of Hypertension (former Chair, Corporate Affairs Committee), the Endocrine Society, and the National Lipid Association. Dr. Cryer is the Chief Medical Officer of CryerHealth, a Washington, DC based patient-centric healthcare consultancy. In addition, he currently serves as Treasurer on the Board of Directors of the Friends of the National Library of Medicine and the Boards of Directors of the Association of Black Cardiologists, the Asthma and Allergy Foundation of America, and the Global Liver Institute. 
Gregory Schimizzi, MD
Rheumatology
Wilmington, NC
Dr. Gregory Schimizzi is the cofounder of Carolina Arthritis Associates, PA, in Wilmington, NC, and has been a licensed and board-certified rheumatologist in private practice for 30 years. He co-founded, and previously served as president, of the Coalition for State Rheumatology Organizations (CSRO). He has also previously served as president, and a member of the executive board, at the North Carolina Rheumatology Association. He is also affiliated with Coalition of State Rheumatology Associations, North Carolina Rheumatology Association, American College of Rheumatology, New Hanover-Pender Medical Society, American College of Physicians and the National Association of Parliamentarians. He completed his undergraduate and medical school studies at Wayne State University in Detroit, in addition to his internship and residency at the Wayne State University Affiliated Hospitals. Dr. Schimizzi completed his Fellowship training at the University of California at Irvine.
David Charles, MD
Founder | Alliance for Patient Access
Dr. David Charles is Chairman of the Alliance for Patient Access and a practicing neurologist in Nashville, Tennessee.  Dr. Charles is a national leader in movement disorders research and is past chairman of the Public Policy Committee for the American Neurological Association and Legislative Affairs committee of the American Academy of Neurology. He is a fellow of the American Academy of Neurology and American Neurological Association and past Board member of the United Council of Neurologic Subspecialties, and Past-President of the Tennessee Academy of Neurology. He is currently leading the only clinical trial approved by the United States Food and Drug Administration to test deep brain stimulation in people with early stage Parkinson's disease. Dr. Charles took leave from his practice in 1998 and spent a year on the staff of the U.S. Senate Subcommittee for Public Health and Safety, where he served as a health policy advisor. Following this experience in Washington, Dr. Charles conducted Parkinson's disease research in France as a Fulbright Senior Scholar.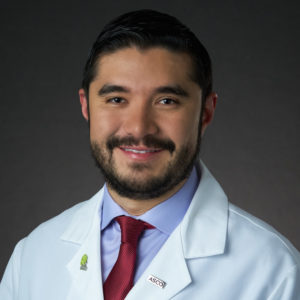 Arturo Loaiza-Bonilla, MD
Oncology
Philadelphia, PA
Dr. Loaiza-Bonilla is the current Vice President of Medical Oncology at the Cancer Treatment Centers of America and head of clinical research. He is an expert speaker who served as Assistant Professor in Hematology / Oncology at the Abramson Cancer Center of the University of Pennsylvania, and educated at the University of Miami, Johns Hopkins and the NIH. Dr. Loaiza-Bonilla specializes in clinical trials and translational research, as well as multidisciplinary comprehensive care of patients suffering from gastrointestinal cancers, and is an expert in the integration of personalized cancer genomics, biosimilars, pharmacoeconomics technology, artificial intelligence, the use of immunotherapy and targeted therapies. Dr. Loaiza-Bonilla is a passionate advocate of oncology precision, medical education, leadership of organized medicine and health policy. Dr. Loaiza-Bonilla was awarded the Leadership Award Foundation Fellowship the American Medical Association (AMA) and the American College of Physicians (ACP), and listed as Castle Connolly Top Doctor and selected as one of Pennsylvania Magazine's 2019 Top Doctors. In addition, he has a Master 's degree in Medical Education (MSEd) degree from the University of Pennsylvania and serves as the President Elect of the Pennsylvania ASCO State Affiliate (PSOH).
BPC Principles
With patient safety at the core of our mission, BPC has established the following four guiding principles.
The patient-clinician relationship must remain intact. Throughout the prescribing and use of biologics, biosimilars and interchangeable biologic agents, the clinician educates the patient, recommends an appropriate therapy, and manages the course of treatment.
Prescribers must have access to all of the information needed to fully understand the distinct therapeutic choices available. These include the specific originator, biosimilar and interchangeable biosimilar medications. These agents will require careful monitoring for efficacy, safety, and tolerability in each patient and must be meticulously recorded in each patient's record.
Patients have a right to information regarding their dispensed medication. Full, easily accessible information is especially critical if the medication dispensed is a substitute for what was prescribed. Informed patients may then seek their clinician's guidance on appropriate use, including self-monitoring.
The Collaborative supports prescriber and patient education programs.  Advocacy and education will promote the aforementioned principles, including transparent data, clear product identification, specific labeling, accurate medical recording and manufacturer accountability.
To receive regular newsletters and periodic alerts from the BPC, enter your email address in the form below: